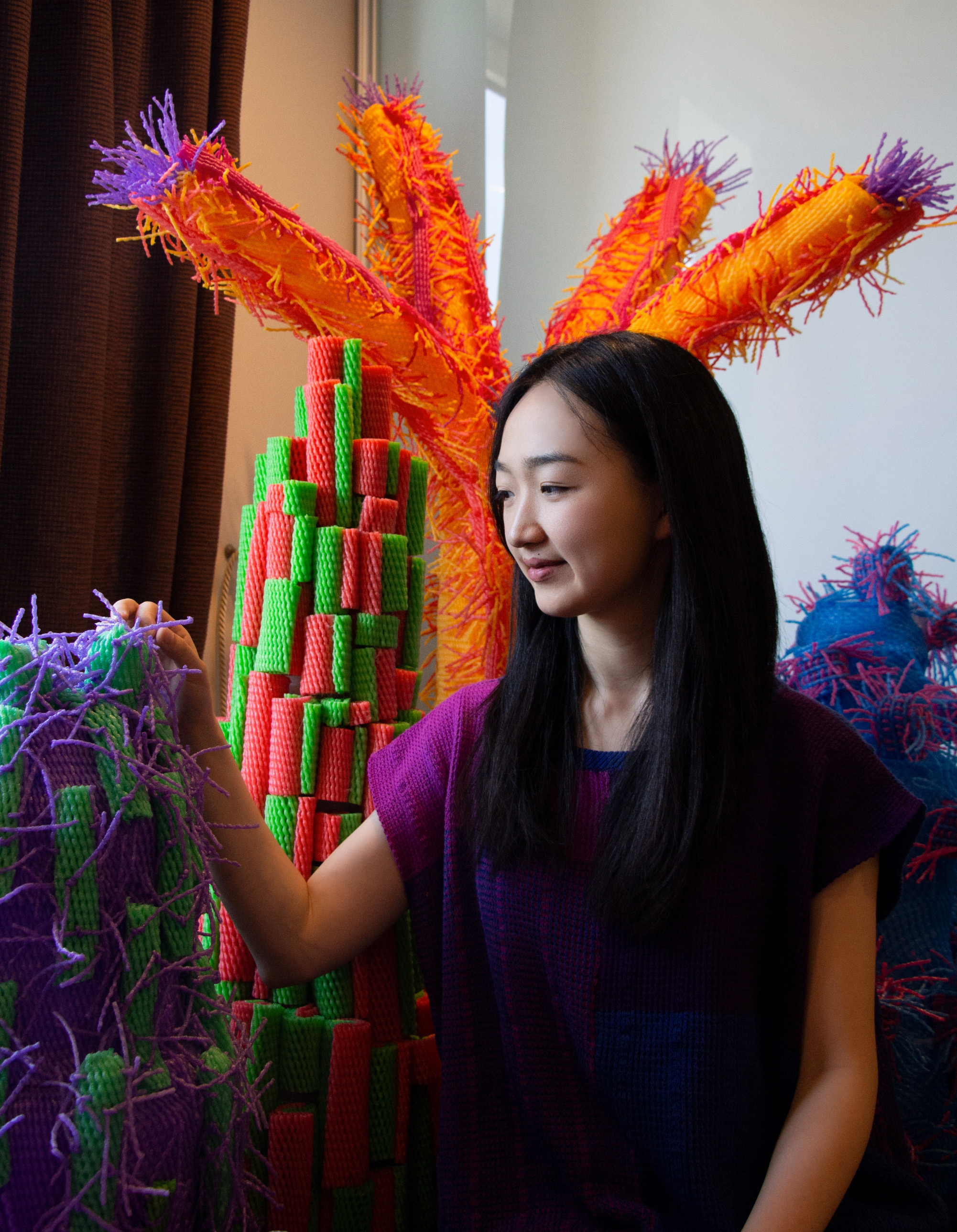 Profile
Agile, multidisciplinary designer with academic design experiences in UK, US and Germany. Fascinated by colour, form, and material in bringing design into daily lives and considering environment care. Challenged the flatness in contemporary society in exploring interactive experience by combing textiles, product design, and new media.
Education
Royal College of Art, London, United Kingdom
Master of Arts - Printed Textiles, July 2022
Rochester Institute of Technology, New York, United States
Bachelor of Fine Art - Industrial and Product Design, May 2020
RIT Outstanding Undergraduate Scholar, GPA - 3.91/4.0
Anhalt University of Applied Science, Dessau-Roßlau, Germany
Study abroad - Integrated Design, Spring 2018
Work Experiences
Josh Owen LLC, New York, United States
Industrial design Internship, 05/2020 - 05/2021
• Designed new products for different clients from sketching to modeling to production: Iron Trays and Catchall for AREAWARE, Duets (the collection of tableware) for Nambé and Mother Tongue (guitar pedal) for Adventure Audio
• Worked on SolidWorks 3D modelling, KeyShot rendering and Photoshop retouching
• Designed Instruction manual for Mother Tongue guitar pedal for Adventure Audio
• Prepared presentations for meetings with different clients
Tommy Hilfiger, New York, United States
Handbag Design Intern, 01/2019 - 05/2019
• Did dandbag and material research
• Worked on Illustrator and Photoshop - updating/colouring sketches and artwork
• Created fabric, colour and finish mood boards. Updated line sheets, and spec sheets
Proenza Schouler, New York, United States
Accessory Internship, 08/2018 - 12/2018
• Did handbag, jewellery and footwear research
• Worked on Illustrator and Photoshop - colouring/updating sketches and artwork
• Organised seasonal samples including leather, fabric and colour swatches
Awards
RCA x Priestmangoode CMF Project, Make and Play, Highly recommended, 2021
T-minus design competition, Catch N Play, Category Winner, 2020
Metaproject 10, Stacking reminder, Archival Award recipient, 2019
Exhibitions
Another World or Not, Willesden Gallery, London, 2022
RCA Graduate show, London, 2022
London Craft Week, Absent Traces, London, 2022
RCA WIP show, London, 2022
London Design Festival, London, 2021
PG X RCA: Precious Waste - Single Use Plastics Re-born, 2021
https://www.priestmangoode.com/pg-rca-precious-waste/?utm_campaign=HBC_CMF_020921&utm_medium=email&_hsmi=155221587&_hsenc=p2ANqtz-_-Xx0O3VeY41tX3PuJxqJeMnquPVMbpTeo9OuLBnzaK9dY_YQZ802djxs0r7DTgnVj8aNXRYX0buLPeOnMeZNkL_GV3A&utm_content=155221587&utm_source=hs_email

Press
Jane Levere, 'A Virtual Exhibition Explores Ways to Epicycle Single-Use Plastics',
METROPOLIS
,
https://metropolismag.com/viewpoints/priestmangoode-royal-college-of-art/
[accessed 01 November 2021].
Becca Alkema, 'Pandemic re-emergence of single-use plastic calls for creative reuse,
RUNWAYGIRL
,
https://runwaygirlnetwork.com/2021/09/27/single-use-plastics-pandemic-re-emergence-calls-for-creative-reuse/
[accessed 27 September 2021].
Elissaveta M. Brandon, 'Students turn plastic waste into everything from lamps to subway seat covers',
FASTCOMPANY,
https://www.fastcompany.com/90681645/students-turn-plastic-waste-into-everything-from-lamps-to-subway-seat-covers?partner=feedburner&utm_source=feedburner&utm_medium=feed&utm_campaign=feedburner+fastcompany&utm_content=feedburner
[accessed 30 September 2021]